Wedding Tent form Chinese tent supplier for sale
  >> Company information of the Wedding Tent Supplier
Liri Tent Technology (Zhuhai) Co., Ltd. was established in 1997. Our company is the first professional manufacturer who introduced European advanced tents technology into our own design. Our main products include Modular Aluminium Alloy Structure Tents, Clear Span Tent Structure and Aluminium Alloy Square Pagoda & Summer Gazebo.
To form an integrated management system,Liri Tent introduced advanced ERP system in 2008 and barcode management system in 2013. Liri Tent is also the pioneer to apply CNC machines that achieved the automatic processing of aluminum.
And we have been shipping our products to about 120 countries and regions for different international projects, like
Kinds of New Style Tent for China Open
Canton Fair Exhibition Hall
2011 Universiade Official Tent Supplier
2010 Asian Games Exclusive Tent Supplier&Sponsor
Dior Event in Hong Kong
China Grand  Rally Sponsor
Hong Kong Wine and Dine Festival
……
  >> Specifications of the Wedding Tent form Chinese Tent Supplier
Liri WT Series:
Type
Span Width
Bay Distance
Eave Height
Ridge Height
Main Profile
WT
6m/19.7′
5m/16.4′
2.6m
3.7m
122x68x3mm(4-channel)
WT
8m/26.2′
5m/16.4′
2.6m
4.08m
122x68x3mm(4-channel)
WT
10m/32.8′
5m/16.4′
2.6m
4.4m
122x68x3mm(4-channel)
WT
12m/39.4′
5m/16.4′
2.6m
4.78m
122x68x3mm(4-channel)
The length can be extended by 5m bay such as 15m,20m,30m,40m…Customized size is available.
Frame struss: hard pressed extruded aluminium 6061/T6(15HW) which can last more than 20 years.
Fabric cover: high quality double PVC-coated polyester textile, 100% waterproof, flame retardant to DIN4102 B1, M2, CFM, UV resistant, tear resistant, self-cleaning ability, etc.
Connector: strong hot-dip galvanized steel
Allowed temperature condition: -30 degree Celsius~+70 degree Celsius
Wind load: max. 100km/h (can be reinforced)
Snow load: 75kg/sqm (snow can't stay if use big degree roof pitch design)
Easy to be assembled and dismantled, movable.
No pole inside, 100% available interior space.
  >> Applications of the Wedding Tent form Chinese Tent Supplier
Widely used for Weddings, Events, Parties, Celebrations,Sports,Tradeshow, Warehouse,etc.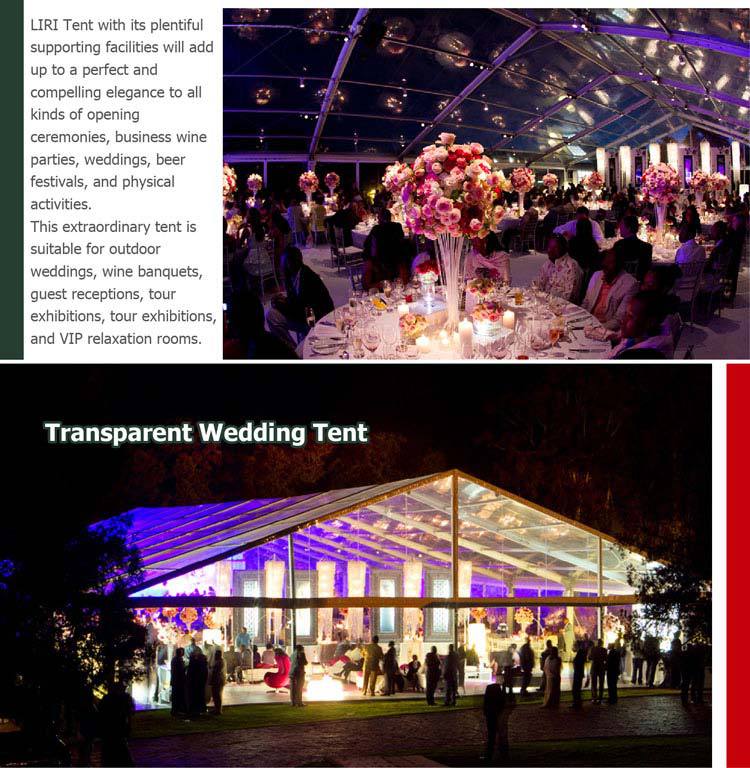 >> Accessories of the Wedding Tent form Chinese Tent Supplier
Covers: colourful cover, transparent cover, inflatable roof cover
Windows: dome or square clear PVC windows, mesh window, glass window for glass wall
Wooden Flooring System: VIP cassette flooring, simple cassette flooring
Doors: double-wing glass door, single-wing glass door, glass fire door, aluminium door, rolling shutter(automatic or manual)
Wall: soft PVC fabric wall, glass wall, ABS hard wall, sandwich panel wall, steel plate wall
Fixing Methods: ground anchors, weight plate, expandable bolts
Rain Gutters:inner roof beam rain gutter or rain gutter between two similar tents
Other Optional Items: table, chair, lighting, AC, carpet, installation tools etc.
  >> Certificate of the Wedding Tent form Chinese Tent Supplier