Large Musical Concert Marquee For Outdoor Events
(Provided by Liri Tent)
Do you want to buy one Exhibition Marquee tent for mutil-functions? Such as for wedding, churh, exhibition, new products show, church, event center.  if so, we have the perfect space solutions for you as below:
Widely used as wedding marquee tent, event tent, party tent, festival tent, racing tent, sports tent, outdoor exhibition tent, tradeshow tent, warehouse tent, storage tent, outdoor activity marquee tent, and tent hire business, event design business, military solution, temporary warehouse and workshop etc.
Specifications of large musical concert marque
 As the first and largest aluminium structure tent company in China with 19 eays' history and experience, our company is the only one that able to produce tent over 60m wide and exported to foreigh country.
We can produce clear span aluminium tent from 3m wide to 80m wide, with length unlimited and expandable by 3m or 5m.
Type
Span Width
Bay Distance
Eave Height
Ridge Height
Main Profile
PG
10m/32.8′
5m/16.4′
4m
7.16m
204x120x4mm(4-channel)
PG
12m/39.4′
5m/16.4′
4m
7.4m
204x120x4mm(4-channel)
PG
15m/49.2′
5m/16.4′
4m
8.75m
204x120x4mm(4-channel)
PG
18m/59′
5m/16.4′
4m
9.15m
204x120x4mm(4-channel)
PG
20m/65.6′
5m/16.4′
4m
9.42m
204x120x4mm(4-channel)
PG
25m/82′
5m/16.4′
4m
11.72m
256x121x5mm(4-channel)
PG
30m/98.4′
5m/16.4′
4m
13.2m
256x121x5mm(4-channel)
PG
40m/131.2′
5m/16.4′
4m
15.6m
300x120x5mm(4-channel)
PG
50m/164′
5m/16.4′
4m
16m
400x120x7mm(4-channel)
PG
60m/197′
5m/16.4′
4m
18m
400x120x7mm(4-channel)
The length can be extended by 5m bay such as 15m,20m,30m,40m…Customized size is available.
Features and materials of the large concert marquee
Frame struss: hard pressed extruded aluminium 6061/T6(15HW) which can last more than 20 years.

Fabric cover: high quality double PVC-coated polyester textile, 100% waterproof, flame retardant to DIN4102 B1, M2, CFM, UV resistant, tear resistant, self-cleaning ability, etc.

Connector: strong hot-dip galvanized steel

Allowed temperature condition: -30 degree Celsius~+70 degree Celsius

Wind load: max. 100km/h (can be reinforced)

Snow load: 75kg/sqm (snow can't stay if use big degree roof pitch design)

Easy to be assembled and dismantled, movable.

No pole inside, 100% available interior space.
 Fixing Methods of our large musical concert marque
Four different type of fixing, will meet most situations as well as your mobile and permanent demand.
Accessories of our large musical concert marquee
Covers: colourful cover, transparent cover, inflatable roof cover

Windows: dome or square clear PVC windows, mesh window, glass window for glass wall

Wooden Flooring System: VIP cassette flooring, simple cassette flooring

Doors: double-wing glass door, single-wing glass door, glass fire door, aluminium door, rolling shutter(automatic or manual)

Wall: soft PVC fabric wall, glass wall, ABS hard wall, sandwich panel wall, steel plate wall

Fixing Methods: ground anchors, weight plate, expandable bolts

Rain Gutters:inner roof beam rain gutter or rain gutter between two similar tents

Other Optional Items: table, chair, lighting, AC, carpet, installation tools etc.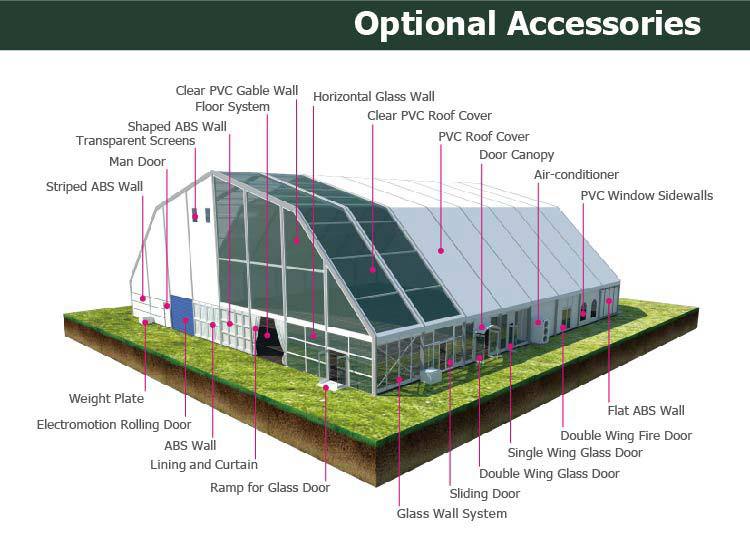 Why Choose LIRI Tents as large musical concert supplier?
Liri Tent Technology (Zhuhai) Co., Ltd. Was established in 1997. Our company is the first professional manufacturer who introduced European advanced tents technology into our own design, selling and manufacture. Our main products are modular Aluminium alloy moveable tents and Aluminium alloy square Pagoda & Summer Gazebo and Folding tent.
Our company, Liri Tent has adopted the most advanced CNC machining production lines in China for tent structure to keep high quality of our tents; SCT automatic fabric processing machining for fabric to keep the fineness of the covers and sidewalls, and ERP managing system to trace records of your every order so as to keep better after-sale service.
We have been exporting tents to about 120 countries and regions all over the world and won great reputation worldwide including Europe,  USA, South Africa, and Australia etc.We are very experienced in doing big international projects, like the 2010 Asian Games, 2014 China Open Tennis Tournament, 2002-2015 China Import and Export Fair, 2015 Europe PGA Golf event and 2015 Beijing World Athletic Championships etc.
  For more information of large musical concert marque – FAQ