Product Description
    >> Specifications of Our Marquee Tents
Liri NPT Series:
Type
Span Width
Bay Distance
Eave Height
Ridge Height
Main Profile
NPT
3m/9.8′
3m/9.8′
2.6m
3.16m
100x48x3mm(4-channel)
NPT
4m/13′
3m/9.8′
2.6m
3.35m
100x48x3mm(4-channel)
NPT
5m/16.4′
3m/9.8′
2.6m
3.52m
100x48x3mm(4-channel)
NPT
6m/19.7′
3m/9.8′
2.6m
3.71m
100x48x3mm(4-channel)
NPT
8m/26.2′
3m/9.8′
2.6m
4.05m
100x48x3mm(4-channel)
NPT
9m/29.52′
3m/9.8′
2.6m
4.24m
100x48x3mm(4-channel)
NPT
10m/32.8′
3m/9.8′
2.6m
4.4m
100x48x3mm(4-channel)
NPT
12m/39.4′
3m/9.8′
2.6m
4.76m
100x48x3mm(4-channel)
The length can be extended by 3m bay such as 6m,9m,12m,15m…Customized size is available.
Frame struss: hard pressed extruded aluminium 6061/T6(15HW) which can last more than 20 years.
Fabric cover: high quality double PVC-coated polyester textile, 100% waterproof, flame retardant to DIN4102 B1, M2, CFM, UV resistant, tear resistant, self-cleaning ability, etc.
Connector: strong hot-dip galvanized steel
Allowed temperature condition: -30 degree Celsius~+70 degree Celsius
Wind load: max. 100km/h (can be reinforced)
Snow load: 75kg/sqm (snow can't stay if use big degree roof pitch design)
Easy to be assembled and dismantled, movable.
No pole inside, 100% available interior space.
    >> Fixing Methods of Our Marquee Tents

    >> Accessories of Our Marquee Tents
Covers: colourful cover, transparent cover, inflatable roof cover
Windows: dome or square clear PVC windows, mesh window, glass window for glass wall
Wooden Flooring System: VIP cassette flooring, simple cassette flooring
Doors: double-wing glass door, single-wing glass door, glass fire door, aluminium door, rolling shutter(automatic or manual)
Wall: soft PVC fabric wall, glass wall, ABS hard wall, sandwich panel wall, steel plate wall
Fixing Methods: ground anchors, weight plate, expandable bolts
Rain Gutters:inner roof beam rain gutter or rain gutter between two similar tents
Other Optional Items: table, chair, lighting, AC, carpet, installation tools etc.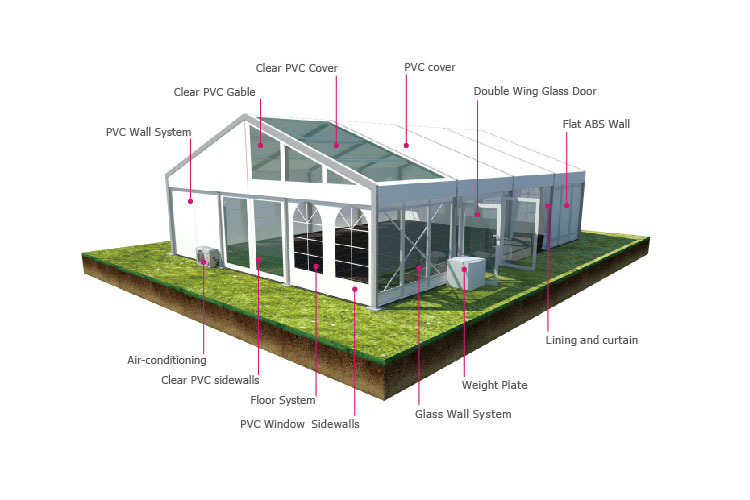 >> Applications of Our Marquee Tents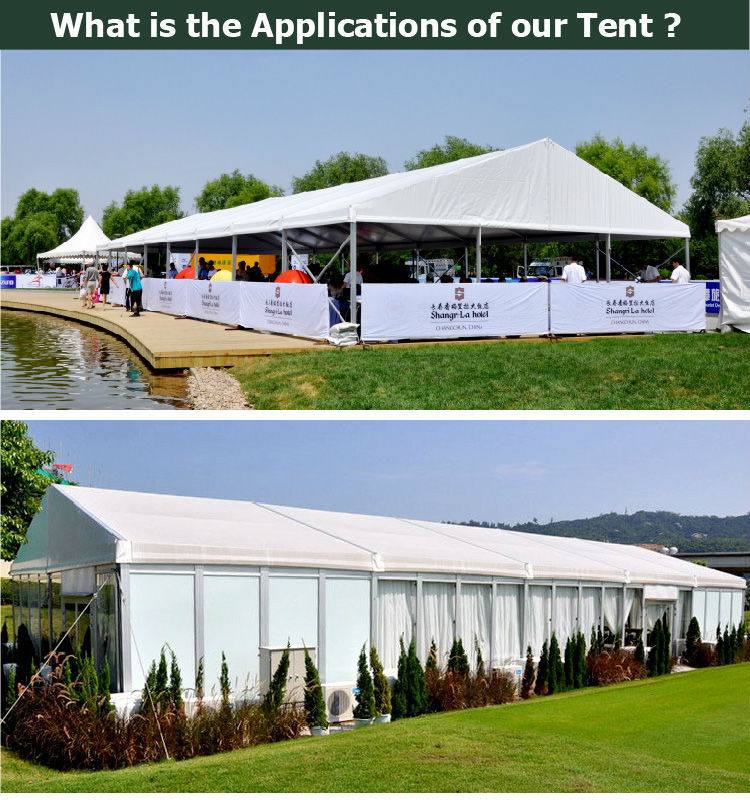 Widely used for Weddings, Events, Parties, Celebrations,Sports,Tradeshow, Warehouse,etc.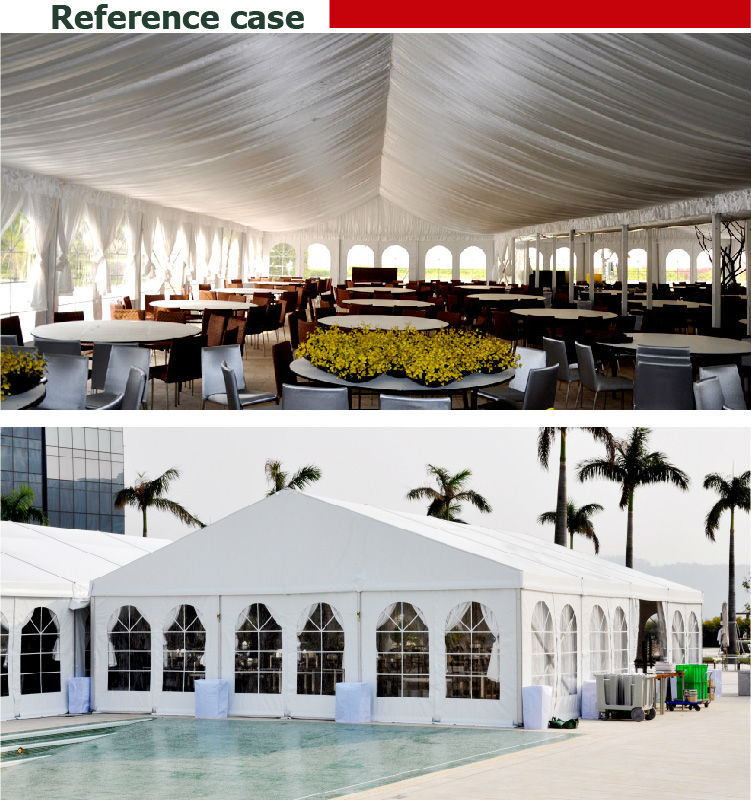 >> Packaging of Our Marquee Tents
aluminum frame packed in membrane film
hardware packed in solid carton box
roof and sidewall in professional PVC carry bag
    >> Certificate of Our Marquee Tents
LIRI TENT Series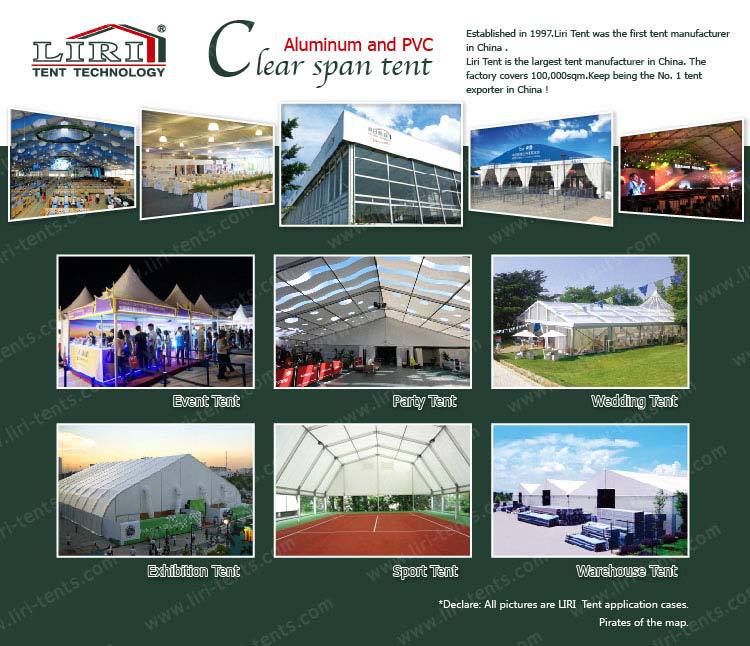 | | | | |
| --- | --- | --- | --- |
| Tent Roof Type | Span Width | Bay Distance | Eave Height |
| "A" Shape | 3m~60m | 3m/5m | 2.6m/3m/3.3m/3.88m/4.2m/5m/5.2m |
| Domelike | 3m~40m | 3m/5m | 2.6m/3m/3.23m/3.88m/3.92m |
| High Peak | 3m~10m | 3m/4m/5m/6m/8m/10m | 2.5m/2.6m |
| Curve Shape | 15m~40m | 5m | 3.87m/3.89m |
| Polygon | 10m~60m | 5m | 4m |
| Cube Structure | 10m~30m | 5m | 5m |
Please note this is a general description.For exact tent type and size please feel free to contact us.
Why Choose LIRI TENT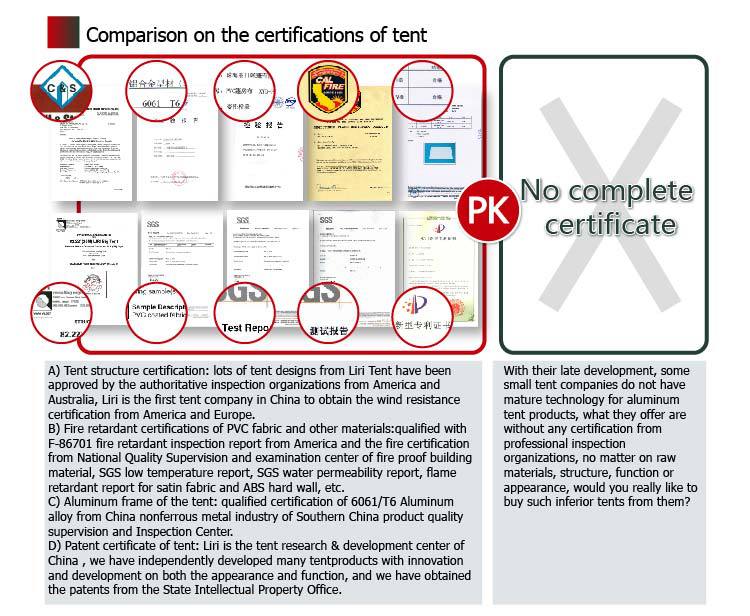 Company Information
Liri Tent Technology (Zhuhai) Co., Ltd. Was established in 1997. Our company is the first professional manufacturer who introduced European advanced tents technology into our own design. Our main products include Modular Aluminium Alloy Structure Tents and Aluminium Alloy Square Pagoda & Summer Gazebo.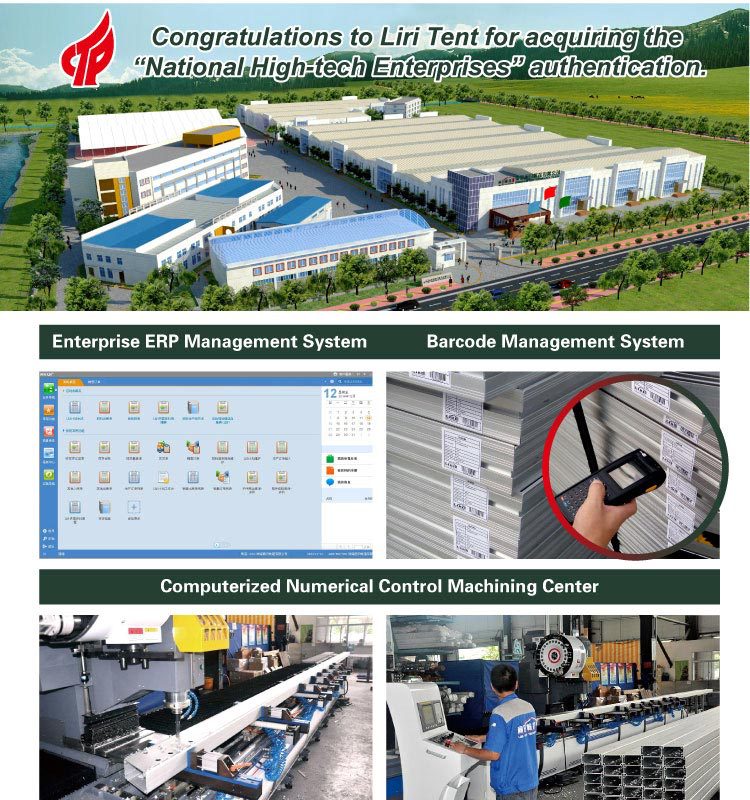 To form an integrated management system,Liri Tent introduced advanced ERP system in 2008 and barcode management system in 2013. Liri Tent is also the pioneer to apply CNC machines that achieved the automatic processing of aluminum.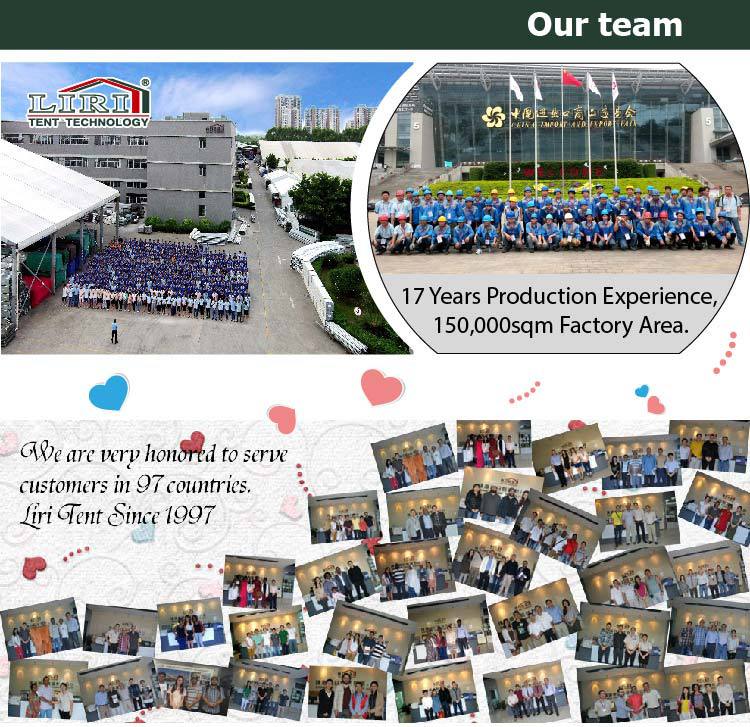 LIRI TENT Successful Cases:
China Open Tent Sponsor
Canton Fair Exhibition Hall
2011 Universiade Official Tent Supplier
2010 Asian Games Exclusive Tent Supplier&Sponsor
Dior Event in Hong Kong
China Grand  Rally Sponsor
Hong Kong Wine and Dine Festival
……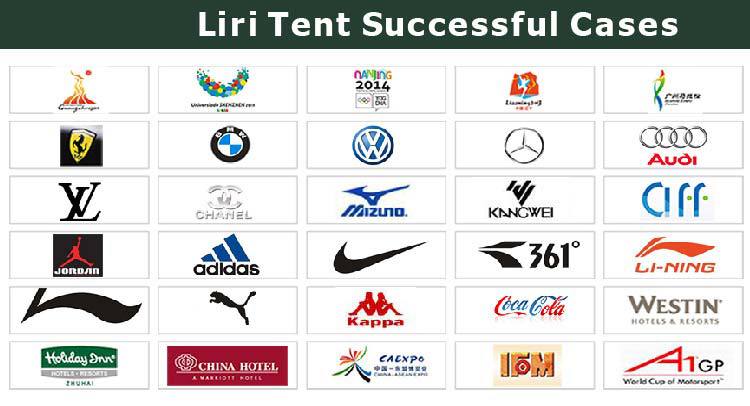 FAQ
Q: Can you print our logos on tent?
Yes.Customized logos can be print on the tent fabric according to your requirements.
Q: Is that factory price?
Yes.We assure you all prices are based on factory.
Q: Does your tent be able to install repeatedly?
Our tents can be assembled and dismantled and repeatedly with small transportation size.The lifespan of aluminium framework can reach 15-20 years,and 5-8 years for PVC fabrics depending on different conditions of usage.
Q: What documents are available?
A full range documents including structural drawings,packing list,installation manual and relative certificates can be provided.Moreover,customs declaration is provided.We provide one-stop service for you.
Q: What size tent is necessary for your special event?
A person must first determine tent usage. If a tent is being used for dining purposes and round tables are being used allow 10-12 square feet per person. If banquet style tables are being used allow 8-10 square feet per person.If the purpose is for cocktail service allow five to six square feet per person. Contact us for all your specific questions and more information on tent types.
Q: Has your tent product been certified?
Yes.Our tent product has passed the engineering tests and gained the America And Australia structural engineering certificates. Besides, the PVC fabric used for roof covers and sidewalls has passed the fire tests and gained the flame retardant certificates issued by America, Australia, New Zealand, and Britain.
Q: Is your tent strong and stable enough? How about the wind loading?
Yes.The main frameworks (upright support and roof beam) are manufactured with high impact extruded anodized aluminum (6061/T6) so our tent structure is safe and strong and can resist wind up to 100 km/hr.
Q: How long is the warranty period?
Guarantee one year. During the warranty period, we shall repair or replace the damaged part accordingly because of any damage due to quality problem.